Often the best way to show your love is by protecting the future of those you care for most. Life insurance isn't romantic, but it provides a way to secure your family's future if you're not around. Life insurance helps protect your family or business from the financial impact caused by your death with a death benefit that in most cases is paid tax-free.
ALL CLASSES CAN BE TAKEN LIVE OR LIVE ON-LINE ZOOM WEBINAR
Students can enroll in classes weekly. Classes are on a rolling schedule, which means you can start anytime.
Classes will start 1 week after your registration form is completed and class fees are paid.
Classes are held at the Freedom Center 837 East 162nd Street, Suite 7-8 South Holland, IL 60473
Classes and location are subject to change without notice based on availability.
Freedom Financial Institute's Executive package, a 4-week course (30-40 hours of study), is only $997.
The $997 Starting A Business Course includes the following: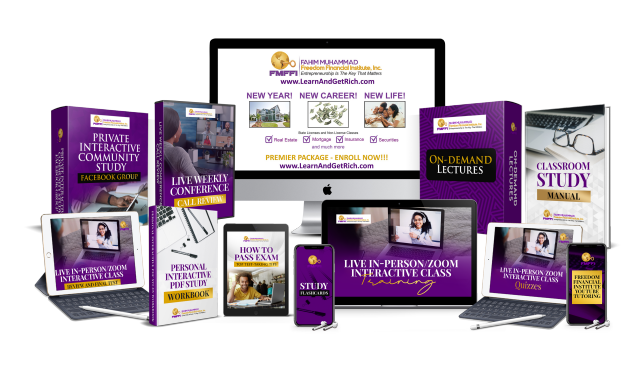 Live in-person/zoom interactive class training

Live in-person/zoom interactive quizzes

Live in-person/zoom interactive review and final test

Personal interactive pdf study workbook

Private Interactive Community Study Facebook Group

Live Weekly Conference Call Review

Classroom Study Manual

On-demand Lectures
Real Estate Provider #515.000066/Fahim Muhammad Instructor #512.003026/Fahim Muhammad Managing Broker #471.020985
Freedom Financial Institute, IDOI Provider #500026517/NMLS Provider #1405073/Fahim Muhammad NMLS #1851084
All loans originated through Mortgage Loan Direct, NMLS #1192858
15255 South 94th Avenue, Suite 500 Orland Park, IL 60462
Mailing Address: 837 East 162nd Street, Suite7-8 South Holland, IL 60473
708-704-7309/708-566-1222
844-49-FREEDOM
info@freedomfinancialinstitute.orgCopyright© 2023 - Fahim Muhammad Freedom Financial Institute, Inc.