This class will teach you how to:

•Achieve wealth and cash flow through real estate
•Find property with real potential
•Show you how to unlock the myths that are holding you back
•Negotiating the deal based on the numbers
•Evaluate property and purchase price
•Increase your income through proven property management tools
ALL CLASSES CAN BE TAKEN LIVE OR LIVE ON-LINE ZOOM WEBINAR
Students can enroll in classes weekly. Classes are on a rolling schedule, which means you can start anytime.
Classes will start 1 week after your registration form is completed and class fees are paid.
Classes are held at the Freedom Center 837 East 162nd Street, Suite 7-8 South Holland, IL 60473
Classes and location are subject to change without notice based on availability.
Freedom Financial Institute's Executive package, a 4-week course (30-40 hours of study), is only $997.
The $997 Starting A Business Course includes the following: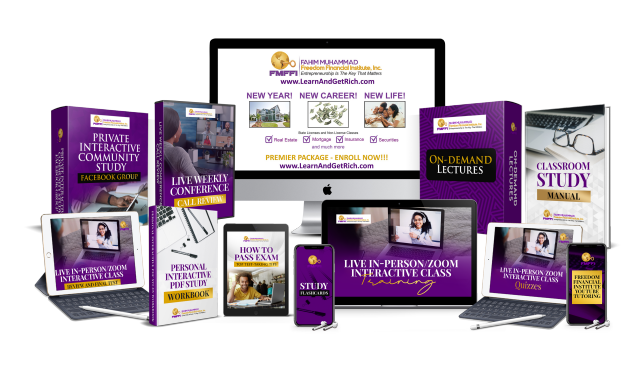 Live in-person/zoom interactive class training

Live in-person/zoom interactive quizzes

Live in-person/zoom interactive review and final test

Personal interactive pdf study workbook

Private Interactive Community Study Facebook Group

Live Weekly Conference Call Review

Classroom Study Manual

On-demand Lectures
Real Estate Provider #515.000066/Fahim Muhammad Instructor #512.003026/Fahim Muhammad Managing Broker #471.020985
Freedom Financial Institute, IDOI Provider #500026517/NMLS Provider #1405073/Fahim Muhammad NMLS #1851084
All loans originated through Mortgage Loan Direct, NMLS #1192858
15255 South 94th Avenue, Suite 500 Orland Park, IL 60462
Mailing Address: 837 East 162nd Street, Suite7-8 South Holland, IL 60473
708-704-7309/708-566-1222
844-49-FREEDOM
info@freedomfinancialinstitute.orgCopyright© 2023 - Fahim Muhammad Freedom Financial Institute, Inc.